3D Printing for Manufacturing
Manufacturing industry is always looking for new and innovative ways to work and, in the last few years, 3D printing has been in pole position. The progresses made by 3D printing technology, and also the new adopted materials and equipment have resulted in a reduction of the costs making 3D printing a more feasible option for general use in production. Traditional production must confront with the rising needs of the world but it features a few limits that can be overcome by 3D printing applications. 3D printing offers extraordinary and unique advantages compared to traditional production.
Green Tales offers 3D printing services, rapid prototyping, modelling and 3D scanning.
3D Printing services
3D Prototyping
Rapid prototyping (RP) is an innovative technology developed for the production of complex geometrical objects directly from the mathematical model of the object, realized on a CAD three-dimensional system, reducing lead time to few hours and without the use of tools.
Three-dimensional printing of an object can be obtained through a process of additive manufacturing, that is the overlapping of different materials in layers; it is the opposite procedure to the one used in traditional manufacturing systems (subtractive production), in which the object is obtained by cutting and drilling an initial block of material.
3D Modelling
From the idea to the product
You have an idea, a project that you would like to realize but you don't know how?
Green Tales assists you in the development process, reducing the time and optimizing economic resources.
Your idea can become a functional prototype with the help of our rapid prototyping services.
We offer a complete product design service for firms and professionals, that, during the realization phase, need technical consultancy to transform an idea in a functioning object. Our customer has the possibility to interact with the designer in every phase, from the bi-dimensional drafts, through the careful 3D-modeling up to the prototype development phase.
3D Scanning
Reverse Engineering
Reverse engineering is used to obtain the geometries of an object, with the purpose of making it better or recreating it.
This service is used in many industrial sectors, like automotive, aeronautical, manufacturing and electronic engineering, just to mention some. It also allows replicating the initial object by scanning.
The newest scanning solutions allow to obtain a high number of data and create digital models characterized by highest precision.
Green Tales was born in 2013 to offer customers innovative solutions in the digital production.
Let's choose together the best material for your project.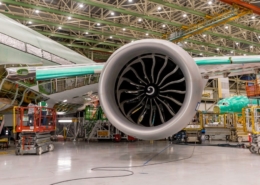 https://www.greentales.it/wp-content/uploads/2020/03/777x-engine-1.jpg
666
1000
admin
https://www.greentales.it/wp-content/uploads/2019/11/GT-logo-4-colori-300x138.png
admin
2020-03-06 12:25:28
2020-03-06 12:25:28
BOEING 777X: 3D printing on the GE9X engine